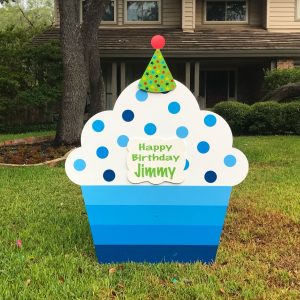 It's a Hap Happ Happy Birthday !!! See your little one's eyes give an extra sparkle when you rent a Cupcake Birthday Yard Sign Just for Them! Our cupcake signs come in a variety of colors- Pink, Blue, Green or White with Sprinkles and a Birthday Hat or a Strawberry or a Bow or a Milestone Number — Phew !! This and many more options for customization to choose from !!
To rent a Stork sign for your new baby or grandchild or a Birthday Cupcake or Flamingo lawn sign for your favorite birthday boy or girl, or celebrating a milestone birthday, and for further details, please contact us at 210-601-7351. Besides Birth Announcements, our Yard Signs can be used for Birthdays, Baby Shower, Gender Reveal Party, Adoption Announcement / Celebrations and much more. 
Stork Lady Signs is a Stork and Birthday Lawn Sign Rental Business and we have been serving the communities of Alamo Heights, Alamo Ranch, Castle Hills, Converse, Fort Sam Houston, Lackland Air Force Base, Leon Valley, Lincoln Heights, Live Oak, Universal City, Hollywood Park, Kirby, Olmos Park, Randolph Air Force Base, Shavano Park, Stone Oak, Terrell Hills, The Great Northwest, Windcrest, Helotes, Leon Springs, Edgewood, Rio Medina, New Braunfels and Boerne, Greater San Antonio, TX area.
Check out our Facebook Page for more updates.
Also click on our Pricing and Coverage link to get more details and to see our variety of yard signs take a look at our previous blog posts.